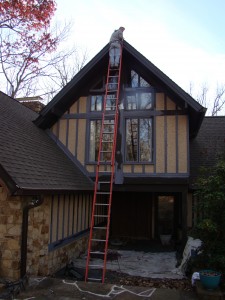 When I owned a painting and pressure washing business, I used some fairly mundane ways to advertise.
Word of mouth
Recommendations from the paint store
Fliers on bulletin boards and newspaper boxes
Knocking on doors
Yard signs
Magnetic sign on my vehicle
Direct response mailings
But one of the most effective ways I found to advertise was simply to be seen working.
When you're high up on a ladder scraping paint, scrubbing windows, pressure washing siding, painting, or doing whatever labor you do, it catches the attention of people.
It communicates that you work, that you show up, and that you complete your job.  People also get a sense of how hard you work as well as the quality of your work.
The evidence speaks for itself.  And people think, "Hey, I want someone to work that hard on my house too!"
Remarkably, I found that people wanted to personally meet me and receive a business card.  They'd walk right past the yard sign with my name and number on it and instead personally ask for my contact information.
Of course the personal interaction helps communicate that you're a real person and not merely a name and number on a chloroplast yard sign.
The next time you have a chance to advertise your business, be seen working and doing.