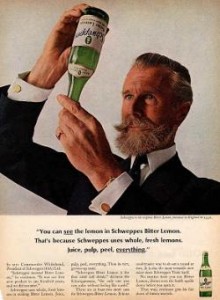 If the image of Commander Whitehead pouring a Schweppes Bitter Lemon makes your taste buds tingle in anticipation of experiencing Schweppervesence . . . .
Or if finding an original ad written by Dan Kennedy, Eugene Schwartz, Gary Halbert or other advertising legend gets you hot with excitement, keep reading.
Though I'm new to the copywriting business, it did not take long before I found myself hunting online for copies of David Ogilvy ads which inspired me . . . ads I wanted to print, frame, and hang on a wall.
Sometimes though these ads just can't be found . . . no matter how hard you work Google's search algorithms.
But here's a secret.
There's an online service where you can find hundreds of newspapers all scanned, digitized, and searchable.  It's the U.S. Newspaper Archives.  Just their U.S. newspaper database spans the years 1753 to 2016.
They have digital copies of hundreds of American newspapers and billions of pages.
While the site is directed towards genealogists who are tracing family histories, the site is useful for a lot of other reasons.
Including, for our purposes here, advertising written and tested by famous advertising legends.
The site is cheap.  They offer a free 14 day access and promise to bill you twice a year for the amount of $49.95.
Well worth the price if you're hunting an elusive bit of advertising history.